Worldwide virtual masters challenge 2020 Awards
Congratulations to all award winners. Thank you to the sponsors for providing these.
Note: The content on this page will change as stories on and photos of the award winners are received.
Throws Pentathlon Highest Scores
Trophy provided by Axel Hermanns
Female: Oneithea Lewis, USA, W60
Long Jump
Crystal trophies provided by anonymous
Joy Upshaw, USA, W59
Marianne Maier, AUT, W77
Kay Glynn, USA, W67
Roger Parnell, USA, M71
Fernando Senso Castilla, ESP, M45
Knut Henrik Skramstad, NOR, M83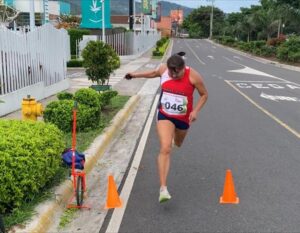 Team Spirit – Costa Rica
Athletes in Costa Rica weren't going to let a virus or lack of a track prevent them from participating. Team Costa Rica edged out Team Austria for the highest per capita participation. Athletes, wearing bibs made by ADEMA Costa Rica, competed in 24 different events including sprints, many times on a road or in a field, decathlon ( 3 athletes) and half-marathon.
Thank you to ADEMA Costa Rica, Lauren Retana Vargas, Erika Krumm and everyone else who made this special for your athletes, ensured they were registered and helped them contest their events.
Recognizing his efforts to encourage other athletes to participate, helping them register and cheering all athletes on.
Prolific athletes
136 athletes competed in 10 events or more! The athletes selected below topped the list of most events contested (two different methods used).
Couples Spirit
The Overstakes have been married for 42 years and competed at the same meets several times. They saw the Challenge as an opportunity to compete together – 10 events each later and they had completed the wife / husband decathlon as darkness was setting in. "This was one of the great moments of our lives."
Generations
It started a couple of years ago when Vaughn was challenged by his granddaughter: "if you compete, I will compete". Vaughn thought the javelin looked like fun so his daughter let him use hers to try. "I wish I had started throwing twenty years ago". They had hoped to compete at the WMA Championship. Having the Worldwide Challenge meant competing in his back yard with his family cheering him on. Janean has been competing since 2014 and has competed in two WMA Championships. Jami competed for the first time with little preparation. Welcome to Masters Athletics!
Congratulations & Thank you!
Congratulations to all the winners. Thank you to all the participants, officials, award sponsors and everyone else involved in this unique event.
Award sponsors for future events are welcome!